Sorry, this page is English only


Last Updated 2005/04/01 00:07




News and Reviews for PalmOS Users!

[ HOME | Play Game! | Use Tools! | Buy Palm! | Talk with Elephant! | Links! ]



PDA equipped with PalmOS such as Palm, WorkPad, Visor, HandEra, CLIE, and Zodiac
It introduces related news, the game, and the tool.


Regular Contents

Play Game!(Corner to play with Palm)

PalmOS Game Catalog
Review of game for PalmOS.
It plays and it introduces 750 fun games or more to think & to be able to play according to the genre.
(Last update 03/15/2005: Puzzle: non-real time system: "Hide'n'Seek" is added.)



Use tools!(Corner to master Palm)

PalmOS Software Catalog
Review of software for PalmOS other than game.
It introduces about 300 set of software happy to use standard & according to the genre.
(Last update 03/08/2005: Science: calculator: "PrettyCalc" is added.)



Buy Palm!(Corner to buy Palm)

Price information in Japan
It is price information on the product related to Palm in the shop in the person offer of original investigation & reader.
(Last update 03/06/2005: Used Palm information at Sofmap GIGA Store in Kyoto)

List of shop related to Palm in Japan
It is information on shop and mail order site in Japan where the product related to PalmOS handled.
(Last update 06/27/2003)



Talk with Elephant!(Bulletin board concerning Palm)

BBS for Japanese PalmOS User
It is a bulletin board that makes the topic concerning Palm a center. The impression etc. : here please.
I might write not writing in the table.



Links!(Link of sites related to Palm)

Palm Links
The world of Japanese PalmOS is classified for six years, and it wanders and the chosen link is classified by the genre.
(Last update 12/22/2004: Software: kuranet.jp is added.)


Other contents
Welcome to "Osaka PalmIII".
For the first time it was possible to come to this site.

Download
The game and data for Palm that NAS Serizawa made can be downloaded.

History of "Osaka PalmIII"
It is a record of the activity of this site for six years.


A word of thanks to the Palm software writer.
It assists in the stroke statement movement.




Palm Users Group in OSAKA
It is Palm user groups while acting around Osaka, Japan. I enjoy.


---

A memory of Palm Magazine Vol.24
It comes feeling relieved for a while though it remains updating once.(+_+)\baki

---
Special gallery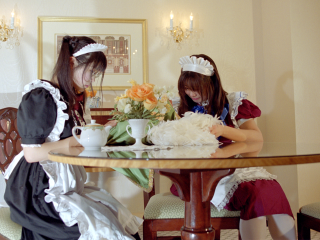 These lovely girls are my housemaid.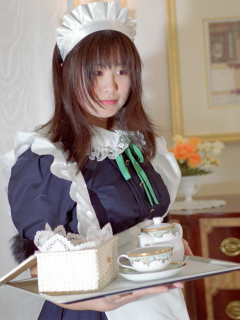 When I use Palm to play the game, she is always watching me.
I am very happy.

---


April, 2005

4/1
Sorry, Japanese.

お知らせ
日本のPalmOSユーザーの皆様へ。
いつも「大阪Palm III」をご愛顧いただき、ありがとうございます。
本サイトは今まで、「Blogには絶対にならない」とか、「サイト構成が古くて使いにくい」とか、「サイト管理者が非モテだ」とか、いろいろ言われて参りました。
次々と移り変わっていくPalmOS世界の情勢の中で、本サイトはこれまで「いつも変わらない情報の提供」をモットーとし、活動をしてきました。
しかし、激しい世の中の流れには勝てず、この機会に大幅にサイトの見直しを図ることにいたしましたのでご報告いたします。

まず、最近のPalmOSに関連した世界中のメーカーならびにサードパーティー各社の動向や最新トレンドを、個人サイトとしていち早く導入することにし、このたび日本市場から撤退することを決定いたしました。
本日より「大阪Palm III」は「世界のOsaka Palm III」となり、英語によるコンテンツ提供に変更となります。
このため、日本語による情報の提供を中止させていただきます。
日本の皆様には何かとご迷惑をおかけいたしますが、翻訳ソフトや辞書ソフトを使って本サイトをお楽しみください。
このように、PalmOS世界の最新トレンドをいち早く取り入れた本サイトは、これでもう古くさいサイトとは誰にも言わせません。
今後は英語だけでなく、ヨン様ファンの奥様方をPalmユーザーにするべく韓国語や中国語などを使った情報の提供も検討中でございます。

なお、今回新たに発足した「ゾウ語検討委員会」(仮称)にて、本サイトの一番大事な要素である「ゾウ語」をどのように英語で表現するかを検討中です。
従いまして、その方針が固まるまでは、ゾウ語の提供はできません。
これにつきましても日本の皆様には大変ご迷惑をおかけすることになると思います。
スタッフ一同、一日も早くこれまでと同レベルの更新をご提供できるよう、頑張ってまいります。
みなさまの温かいご支援ご指導を今後とも宜しくお願い申し上げます。

それでは日本の皆様、今後とも「Osaka Palm III」を宜しくお願いいたします。

Sorry, translation is here.

Notice
To PalmOS users in Japan.
Thank you for always patronizing "Osaka Palm III".
"Never become Blog" or "Because the site composition is old, it is not easy to use it" or "You are Hi-Mo-Te" is said variously and has come to this site up to now.
This site has assumed "Giving information that doesn't change" to be a motto up to now, and has acted in the situation of the PalmOS world that changes one after another.
However, I will report because the flow of a violent world cannot be won, and it decided to attempt the review of the site greatly on this occasion.

First of all, it was decided will promptly introduce trends of a manufacturer all over the world related to recent PalmOS and third parties and the latest trends as an individual site, and to withdraw from a Japanese market.
"Osaka Palm III" becomes "Osaka Palm III in the world", and changes to the contents offer in English today.
Therefore, I will discontinue the giving information in Japanese.
The future, the translation software, and the dictionary software are used and enjoy this site, please though it will trouble variously everybody in Japan.
Not only English but also the giving information that uses Korean and Chinese, etc. to make the madam person of the "Yon-sama" fan Palm user will be being examined in the future.
Thus, this site where the latest trend of the PalmOS world was promptly taken has not allowed anyone to say any longer with an old-fashioned site in this.

"Elephant word" that is it starting "Association of ..translation and all consultations of the elephant word to English very each other.." (tentative name), and the most important element of this site is examined newly at this time and whether it expresses it is being examined in English very.
Therefore, the elephant word cannot be offered until the policy hardens.
I think that it will trouble this everybody in Japan very much in the much more.
It holds out to offer the update of the situation to date and this level as soon as possible of the staff everyone.
Please continue your favors toward warm support guidance of everybody in the future.

Please continue your favors toward "Osaka Palm III" in the future ..everybody in Japan...
Thanks.


---

March, 2005

3/27
URL of convenient links to understand the update time of Palm system site "Let's go with PALMLINK" changes. (It is a new place having linked.)
Has the change in the bookmark already ended?

The "Kyo-pon"(AH-K3001V) connection that remodeled communication adaptor PEGA-CF60 for CLIE this time with Asahi's Palm Site and made it was open to the public.
A any products could made, and the feeling that it is easy to use it more this time though then, it is not and is possible to do even if it doesn't remodel it.
It thinks seriously. ..no potato.. really as soon as only having to make it when you see this site
Parts of each CLIE that has been put on the market up to now are combined little by little, it makes for myself new CLIE, and it is Mr. Asahi ..how.. might and. (+_+)\baki


3/24
Asahi's Palm Site shows the Crystal button making by oneself with the print for CLIE SJ33.
..Oh.. is after a long time.

It seems to have announced the effect to end sales of the CodeWarrior each product for Desktop including the PalmOS relation on the site in the metro works according to Iizuka world(03/23/2005).
It is regrettable news though CodeWarrior was not personally used.

"Plan with OnboardC Palm Pokecon making. " of chame's page introduced with PalmFan(03/22/2005) as for the development relation.
I have the interest in this site. The software of Palm is it is possible to make and on Palm.
The block destroying game can download as sample.
Is anything made in one million access commemoration?

Updata to renew Treo650 CDMA(Sprint Version) to V1.08 began to distribute it.
- like the data it for Treo650 of Sprint to the last ..not putting in other Treo650...
It immediately installed.
Software was reset for myself by suitably doing the tap and installing updata because it had not gone out for the reset demand screen to go out after doing updata in HotSync and to write (Is it safe?).
Perhaps, I am using PalmDesktop for Zodiac, so it occured troouble with Treo650.
Tentatively, it is safely updated to v1.08 and it moves.
Because the setting of Bluetooth had disappeared, it put it again.


3/23
The 54th regular meeting of PUGO are held from 03/30/2005 (Wednesday) of next week 19:30 in training room C of the fifth floor in the Osaka industrial creation pavilion in Sakaisuji-Hommachi, Osaka, Japan.
Please participate by all means after it is each other ..leaving.. of Saso of everybody.
Isn't there report of Palm Users Meeting in Tokyo(forecast to the end)?
Do I possibly escape from the company though I cannot participate at present?(+_+)\Baki

There is no topic of Treo650 at the food recentness because there is no spent time at all.
Because a wide high-resolution is necessary by all means for testing the game occasionally, TungstenT5 and Zodiac are inadvertently inadvertently used.
It has come to feel it gradually .... recently the little .... use and TungstenT5 good.
The thinness and shape, etc. might see the look of great machine PalmV though it doesn't understand whether operation is fast or slow well and it is slight as usual.


3/22
I have gotten the word of congratulation on the bulletin board and various sites immediately after having exceeded one million accesses.
Thank you very much.
A lot of E-mail is received, and thanks.

It previously becomes it in each district ..what story it is though is "Serizawa's mystery" as big as the expectation...
It is glad to be writing little by little when it is possible to watch it by the indulgent eye by all means.

The new game "Osanpo"(Walk) is added in "Palm na Oheya". Isn't the pace of opening to the public of a new game early for a moment?
I want to get many time for play this game...

According to Birdis Land's Favorites!(03/18/2005), "CompCalc" is updated in MinaTech.
Whether "980 yen for 60 pieces" or "950 yen for 58 pieces" obtains it when shopping calculates soon.
Very nice.

"The Nenkyu" is available in Palm studio Inaamo-Ya, this soft is managed the acquisition day of the paid holiday and days of the remainder.

"u*Blog" that can do the entry edit and the contribution of Blog on Palm with the communication environment is updated in "Pamu-Ya".
To tell the truth, it doesn't do from the Brog establishment if it uses it though it is software that wanting tests most now. (+_+)\Baki

Every one: Suffer from symptom of hay fever for the first time in years ・・・ Are it the first time in Kansai and to develop?

Every one: It is useless, and cannot introduce everything by a lot of news's having collected.

Every one: I heard "Air-Bonchi" today, that is the most famous internet radio in Japan.


3/16
Thanks to you, this site exceeded one million accesses today.
Thank you for everybody whom it always assists.
I book it for one million access commemoration project though I want to talk variously.

It is "New Start", not "End".
Only it is certain.
Hereafter, let's enjoy the world of Palm together.


3/15
New puzzle game "Kuru-Rin" was open to the public according to information such as Project Palm(03/14/2005) on the site of "Face? -Relax on Web.-". Please separately need the run time of NS Basic to play, and refer to the explanation of the page of "Kuru-Rin" for details.
The early distribution seemed to be done with held Palm Users Meeting in Tokyo and it to be very popular in 03/12/2005.
I want to many time.(T_T)
Palm Users Meeting in Tokyo was also flourishing easily.
Continuing continuous participation record (?) has been broken off from PUXPO 2000 to our regret on my side, and I want to go if next, there are some events.
It will talk for five minutes or more with Karin(It is an understanding material only in the old reader, sorry.).

"PalmOS game catalog" was updated.
The content is as follows.


Puzzle
non-real time: "Hide'n'Seek" is added.

---

Past information

2004

2003

2002

2001

2000






Do you know the legend of "Palm Airlines"?





Offline meeting information on Palm user groups n Japan





It is different user groups that pile up Palm field from the side as for fool.
"GAMER -NAS Serizawa story-" being serialized.





It is assisting in "PalmwareInfo".
Update information of PalmOS software is written in Japanese.


It is Webring that connects the site related to PalmOS of Japan.



---
PCCM Home

The link to
Osaka Palm III
freely. But, this is an April Fool Site, sorry.
Written by NAS-Serizawa
Get the Star
Osaka Palm III (real page) is here.
This page is an April Fool Site. Sorry.


本物の大阪Palm IIIはこちらから
4月1日は毎年ご迷惑をおかけしております

今までで一番手間かかってないように見えるけど、一番疲れたわ。
英語翻訳は自動に頼ってるので、突っ込みはなしよ。


Special Thanks! PCCM.comメイドさん撮影部隊(毎年ありがとう!)